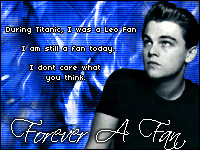 Leonardo DiCaprio's renaissance
Leo talks about Gangs of New york, catch me if you can, Titanic, his childhood, and his attitudes towards fame and the media. Well worth a read!!
Young Lion - BEST INTERVIEW EVER!!!
Here he talks about his childhood in a Hollywood "ghetto", his disastrous first date, his struggle to avoid being in "Hocus, Pocus" his doubts about working with Marky Mark and above all else ...swapping spit! VERY VERY GOOD INTERVIEW! VERY FUNNY!
Here he talks about 'What's eating gilbert grape?", his opinions likes and dislikes concering music and he reveals his biggest dissappointment in the industry so far.
Here he talks about Marvin's Room and working with actors like Robert DeNiro, Meryl streep and Diane Keaton.
Leo and Kate at the Golden Globes
Are Leo and Kate Dating? Answer here!