So, I get ya, what have lipsticks got to do with Titanic?! -my answer, absolutley NOTHING! But, it is believed there were two lipsticks onboard, one named "Rosie Fanny" and the other "Bart Cheeks".
This is the real story of TITANIC, (james cameron copied boot's marketing plan!)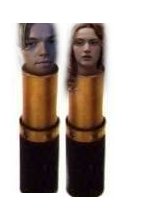 *~Nothing In Boots (or cosmopolitan)Would Come Between Them.*~
In 1912, Rosie Fanny was trapped. Her fiance, Cal Gary was an evil cunning spiteful piece of work, and basically she wanted to ditch him-but her mother, It-Chi fanny (who was chinease), liked the guy for some strange reason, (the money probably) and therefore forced Rosie into marrying him.
Right at the moment where she needed him the most, Bart cheeks, a 3 year old third class passenger stepped in to help her out.
Quotes:
"I don't see what all the fuss is about, this shade dosn't look any darker than the mauretanian one."-Rosie Fanny.
"It was called the lipstick of dreams, to everyone else, but to me it was too damn red. Outwardly it was everything a lipstick should be, inside it was melting,"-Rosie Cheeks
"Bart, you are potty, bloody potty, i can't believe you bet our make up!"- Dick short
"Hey, who said you get the left side of the bed!?"- Bart Cheeks.
"The difference between Cal's taste in lipstick and mine is that i have some- lipstick is fascinating, it's like being inside a dream or something...there's truth but logic!"- Rosie Fanny.
"ah! Forget it boy'o,you'd as like have lipstick fly outta your arse, as get next to the likes of her!" Justin Time.
"I've got your lipstick! I won't let go!"
"I've got everything i need right here with me! I got the air in my lungs and a coiple'a tubes of lippie to keep me goin"
"we love lipstick, lipstick, lipstick!" 3rd class party people.
"They've got it trapped rosie! and it's guna die if it dosn't break free, maybe not right away because its the strongest lipstickin the world, but sooner or later that redness that i love about Rosie, that red is guna die out."-Bart Cheeks
" It's Not up to you to save it bart!"-rosie fanny
"IM WEARING LIPSTICK BART!!"- rosie fanny.
"Bart, i want you to draw me like one of your frenchies, wearing lipstick, wearing only lipstick!"- rosie fanny.
"Over on the lipstick...the couch!"- bart cheeks.
"Put your lipstick on me jack!"- Rosie fanny.
"you smudge i smudge right!?"