After the success of her performance in Heavenly Creatures (a role for which she beat out 175 other actors), Winslet was cast as a princess in Disney's A Kid in King Arthur's Court (1995). That same year, she played the willful, passionate Marianne in Ang Lee's adaptation of Sense and Sensibility. She earned a number of kudos for her work, including an Oscar nomination for Best Supporting Actress. She continued to receive good reviews the following year for her roles in Jude and Kenneth Branagh's adaptation of Hamlet, but did not rocket to major stardom until she played the romantic lead opposite Leonardo Di Caprio in James Cameron's mega-blockbuster Titanic (1997). Nominated for an Oscar for her performance, Winslet became the youngest actress to garner her second Oscar nomination.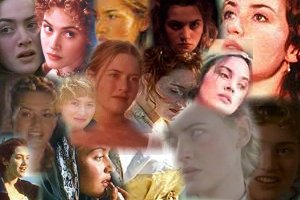 Following the overwhelming success of Titanic, the actress surprised many observers with her next project; rather than go for another high-profile film, she instead chose to star in Gillies MacKinnon's small independent Hideous Kinky (1998), which cast her as a young hippie who takes her children to Morocco in order to pursue spiritual enlightenment. Aside from the good reviews she got for her performance, she also got a husband out of the film: In 1998, she married James Threapleton, Hideous Kinky's third assistant director. Though the marriage wouldn't last long, romance returned to the young starlet's life when she announced that she was dating American Beauty director Sam Mendes in late 2001.
In 1999, she played another young woman in search of spiritual enlightenment, this time in Jane Campion's Holy Smoke. Starring as an Australian girl who joins a Hindu sect on a visit to India, Winslet's role required her to do many things, including standing naked and urinating in front of Harvey Keitel, who played the man hired by Winslet's parents to cure her of her fixation. Such difficult requirements didn't prove a problem for the actress, who had, thus far, built a glorious career on doing the unexpected. After following up the next year as a laundress who is the Marquis De Sade's sole link to getting his erotic works to the outside world in Quills, Winslet was once in the spotlight for her Oscar nominated performance as a youthful Iris Murdoch in director Richard Eyre's Iris.
2002 was a busy time for Kate. She finds herself in Thérèse Raquin, a tale of true passion a married woman in love with another man and together they plot to kill her husband. It's passion that drives them too it- says Kate. Then we have the magician's wife, Based on a true story, The Magician's Wife takes us to the court of the Emperor Napoleon the third. Fresh from victory in the Crimea, he needs to regroup his armies and resources before resuming aggressive French colonialist policy in Algeria. It is 1856; Muslim leaders may be close to declaring a holy war or 'jihad' against the French. World famous magician Henri Lambert and his shy and provincial wife Emmeline are sent to Algeria to win time by parading magic as miracle. France hopes this show of 'spiritual' superiority will subdue and impress the natives, deflect a war and give them the time they need to conquer Algeria and seize control of its lucrative trade routes. Against the backdrop of high political stakes, we see the magician's wife come into her own, follow her conscience and discover a sense of herself in relation to her life and her marriage.
The next film she filmed was Plunge a story set out to be like the cult classic Trainspotting about four "nowhere men of the Nineties . . . fighting unemployment, boredom and depression" whose fates change when one finds a surfboard in a dustbin. This inspires the men to travel to the Cornish Coast where they meet Claire, Kate Winslet, a roadsweeper.
Then the infamous Enigma, In March 1943 the code breakers at Bletchley Park are facing their worst nightmare: Nazi U boats have unexpectedly changed the code by which they communicate. An Allied merchant shipping convoy crossing the Atlantic with 10,000 passengers and vital supplies is in danger of attack. The authorities turn for help to Tom Jericho.

Unknown to his colleagues, Jericho has another equally baffling enigma of his own to unravel: Claire, the woman he loves, has disappeared from Bletchley in the precise moment that a spy is suspected. Tom turns to Hester, Claire's best friend, to help him to unravel the mysteries.
2003 is set to be a big, BIG year for kate already the film Neverland, the movie, is a fictional tale of author JM Barrie and how he came to write his famous tale, Peter Pan, after befriending a woman with four fatherless boys in 19th century London.

Director Marc Forster has this to say to Baz Bamigboye about the movie: "its not a re-telling of Peter Pan, but a look at how it might have come to be written." ; Eternal sunshine of a spotless mind:Jim Carrey receives a notice that his ex, Kate Winslet, has had him erased from her memory. Angry and upset he goes to have the same procedure done during which we see their relationship in backwards motion until Jim decides he no longer wants her erased. and the Life of David Gale: Dr. David Gale (played by Kevin Spacey), a Texas professor and advocate for the elimination of the death penalty, sits on death row for the rape and murder of another activist, Constance Harraway (played by Laura Linney). David Gale tells his story from death row to reporter, Bitsey Bloom, played by Kate Winslet, in a series of flashbacks are all already in the pipeline!
More Info Soon! :o)