Leonardo DiCaprio Is One of my favourite actors of all time, when you watch films such as, Titanic, and The Beach you completely believe that he actually is the character.Not to mention...He's so fucking sexy!!!!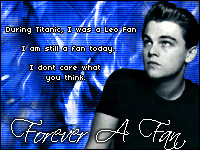 As the blond, blue-eyed icon for millions of teenage girls and more than a few boys everywhere, Leonardo DiCaprio emerged from relative television obscurity to become perhaps the hottest under-30 actor of the 1990s. After leading roles in
William Shakespeare's Romeo + Juliet
and
James Cameron
's
Titanic
, the actor became a phenomenon, spawning legions of websites and an entire industry built around his name.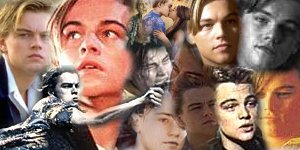 Born in the town that would later make him famous, DiCaprio came into the world on November 11, 1974, in Hollywood, CA. The son of a German immigrant mother and an underground comic book artist father who separated shortly after his birth, DiCaprio was raised by both of his parents, who encouraged his early interest in acting. At the age of two and a half, the fledgling performer had his first brush with notoriety and workplace ethics when he was kicked off the set of Romper Room for what the show's network deemed "uncontrollable behavior." After this rather inauspicious start to his career, DiCaprio began to hone his skills -- and, presumably, his professional behavior -- with summer courses in performance art while he was in elementary school. He also joined the Mud People, an avant-garde theater group, with which he performed in Los Angeles, earning the title of "The Littlest Mud Person."


In high school, DiCaprio acted in his first real play and began doing commercials, educational films, and the occasional stint on the Saturday morning show
The New Lassie
. In 1990, after securing his first full-time agent at the age of 15, DiCaprio landed a role as a teenage alcoholic on the daytime drama
Santa Barbara
. He also continued to appear on other TV shows, such as
The Outsiders
and
Parenthood
, and made his film debut in the 1991 horror film
Critters 3
. The actor got the first of many big breaks with a recurring role on the weekly sitcom
Growing Pains
. His portrayal of a homeless boy won him sufficient notice to get him an audition for
Michael Caton-Jones
' upcoming screen adaptation of Tobias Wolff's This Boy's Life. DiCaprio won the film's title role after beating out 400 other young actors and it proved to be his career breakthrough. The 1993 film, and DiCaprio's performance, won raves and the actor further increased the adulation surrounding him when, later that year, he played
Johnny Depp
's mentally retarded younger brother in
Lasse Hallström
's
What's Eating Gilbert Grape
. DiCaprio won an Oscar nomination for Best Supporting Actor for his performance, and at the tender age of 19, found himself being hailed as an actor to watch.

Subsequent roles in three 1995 films,
Sam Raimi
's Western
The Quick and the Dead
;
Total Eclipse
, in which he played the bisexual poet Rimbaud; and
The Basketball Diaries
, in which he starred as a struggling junkie, all put the actor in the limelight, but it wasn't until the following year that he became a bona fide star. This transition was made possible by his portrayal of Romeo in the hugely popular
William Shakespeare's Romeo + Juliet
opposite
Claire Danes
. The success of the film gave DiCaprio international fame, many lucrative opportunities, and a slew of comparisons to actors such as
James Dean
. After starring with
Diane Keaton
,
Meryl Streep
, and
Robert DeNiro
(his father in
This Boy's Life
) in
Marvin's Room
(1996), DiCaprio was catapulted into the stratosphere of international fame with his starring role in James Cameron's epic about a big boat and a bigger piece of ice. Starring opposite
Kate Winslet
in the 1997 smash
Titanic
, DiCaprio got to be part of film history, as, in addition to being the highest-grossing movie ever, the film garnered 14 Oscar nominations, winning 11, including Best Picture and Best Director. DiCaprio's much discussed exclusion from the nominations did nothing to hurt his popularity, and somewhat ironically, he next chose to parody his own celebrity with an appearance in
Woody Allen
's
celebrity
(1998) as a badly behaved movie star.
After displaying his nastier side, he won back the hearts of teens everywhere with his title role in the same year's swashbuckler
The Man in the Iron Mask
. The film allowed him to explore his good and bad side, as well as the perils of bad wigs, playing twins alongside such older and well-respected personages as
Jeremy Irons
,
Gabriel Byrne
,
John Malkovich
, and
Gérard Depardieu
. Following the commercial success of the film, DiCaprio went in a completely different direction, with a lead role in
Danny Boyle
's screen adaptation of Alex Garland's novel The Beach. The film met with eager anticipation from practically its first day of shooting, as Leonardo fans everywhere waited with bated breath to see what kind of glittering impression their golden child would next make on the film world.
Aside from film acting, Leo's lifelong passion for environmental awareness began to play a big role in his life. Finally in an influential position to make a difference in the name of the planet, he was invited to chair Earth Day 2000. In a special on the deterioration of the ozone level, he also interviewed President Bill Clinton. LeonardoDiCaprio.org is now devoted to helping the environment on a worldwide level.
Leonardo stars in Martin Scorsese's "Gangs of New York" co-starring Cameron Diaz, Daniel Day-Lewis and Liam Neeson. It is Miramax's biggest feature to date, and will be released this Christmas (2002). Also being released this Christmas, is the Dreamworks film "Catch Me If You Can," directed by Steven Spielberg. Leonardo stars with Tom Hanks in this adaptation of the true-life adventures of Frank Abagnale, the youngest man ever on the FBI's Most Wanted List. While considering future projects, Leonardo continues to devote his time and resources to environmental causes.