*About Ms Morissette*
The daughter of Alan and Georgia Morissette, Alanis, an Ottawa native, was one of three children in the family (she has an older brother named Chad and a twin brother named Wade). Although the name Alanis is Greek itself, Alanis Morissette has no Greek background whatsoever. As it turns out, Alan Morissette wanted his daughter to have a female version of his name, but he wasn't particularily fond of the name Alanna. And one day, by chance, he spotted the name Alanis in a newspaper.
Alanis loved dancing and acting when she was young (probably still does). She started learning ballet and jazz dancing at the age of 7. She has also done a lot of stage and theatre work, including a part on the highly popular kids television show "You Can't Do That on Television" when she was 11. Alanis also appeared in the TV movie "Just One of the Girls" in 1993, which starred Corey Haim.
Alanis also seems to be quite fond of teaching, as she once suggested that she might have been an English or Drama teacher if she hadn't been involved in show business.

At age 13, Alanis met Leslie Howe and they started writing together. Eventually, she was signed to MCA, and she recorded her first album, "ALANIS", in 1990. Released in 1991, the music on this album is mostly pop and dance, along the lines of Paula Abdul. This recording proved to be a big hit in her homeland, as "ALANIS" went platinum in Canada. She was labelled as a teenager pop/dance sensation. Her success won her a JUNO Award (Canada's version of the America's Grammys) as the most promising new female vocalist.
Her sophomore album "NOW IS THE TIME" was released by MCA in late 1992. "NOW IS THE TIME" is also a pop album, but this recording as a whole seems to be more mature than her first album. It has more ballards and sounds less like a dance album. Not as successful as "ALANIS", "NOW IS THE TIME" nevertheless went platinum in Canada.

Despite being relatively well-known in Canada, Alanis was a virtual stranger in the United States. Her biggest gigs so far were singing the national anthem at the first Ottawa Senator's game and singing her song "Too Hot" on the 1992 NHL Awards. This may all change after Alanis was signed to Madonna's Maverick Label. After trying to co-write with hundreds of people and being disappointed each time, Alanis finally met Glen Ballard through MCA publishing, and immediately two enjoyed each other's writing style.

Her third release "JAGGED LITTLE PILL" showed a very different Alanis than in the previous two albums. Instead of using midi machines, sequencers and other electronic gagnets, Alanis Morissette, as she is called now, has human band players. Also, the lyrics in this album are much more intelligent, meaningful, and bitter. Alanis believed that the catalyst for her change in attitude and character was her move from Canada to Los Angeles, where she learned to live independently in a big city. Alanis said she is now mature enough to tap into an honesty that she wasn't ready to deal with when she was younger. Most of the songs on "JAGGED LITTLE PILL" are in one way or another autobiographical. And people are loving her work, as her album is now a big hit across the United States.
*Alanis' Favourites:*
FOOD: steamed spinach.
DRINK: Baileys on ice.
MOVIE: Forrest Gump.
MUSICIANS: Annie Lennox, ABBA, Radiohead, Tori Amos, Foo Fighters, George Michael, Bob Dylan, Jane's Addiction, Seal, Björk, John Lennon and David Bowie.
READING MATERIAL: anything but newspapers and magazines. She has been quoted as saying that "90 percent of what is written in magazines and newspapers" isn't true.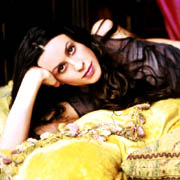 Alanis.com- Alanis Morissette's official site, includes personal diary entries to her fans as well as tour photos and much more!! Alanis even shares some of her poetry!