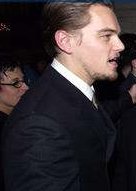 Interviewer: Great performance. The second I saw you I liked that guy I really liked that character.

Leonardo: That was interesting because I've sort of traditionally played characters that have been, um, tortured in some aspect, ya know what I mean. Whether it be by love or drugs or what not. Um, but this guy was like, ya know, an open book. He was an open hearted guy with no demons and, um, it was more of a challenge than I ever thought it would be.

Interviewer: How much of you is in that character? Are you like that character or would you like to be like that character?

Leonardo: I would, I would like to be like that character. I mean Jack sort of embodies a lot of things that I think we all find admirable. Like a Bohemian that lives life day to day finds his own sort of happiness. I, you, you try to be like that. I wish I, ya know, I think I do have some of those aspects but ah, you know he's almost like the kind of guy we all wish to be.

Interviewer: One reason the movie works so well is because you like him and you like her and when they see each other, sitting in the audience, all you want is for these two people to be together and that's when you know the movie works .

Leonardo: Mmm-hmm and that's what initially attracted me more so than even, ah the sort of dynamic of what the Titanic meant to the world and what sort of, ah, story the Titanic was was this love story and when the ship goes down its like, ya know their whole world coming to a to a halt.

Leonardo: . . . It was cold. I mean what what happened was there was a gigantic sort of tank that ah, the interior of the Titanic was in and it was on hydraulics so it was basically, had a level of sea water to it and when ever you wanted corridors to be sort of flooded with sea water, you'd tip the hydraulics on it and the water would come rushing in. It was always like a neat sort of like rollercoaster ride to jump into. Granted after the fiftieth or sixtieth time doing it it becomes tedious but initially the initial excitement of of doing it for the first time was cool.

Interviewer: Lot of wrinkles on you r fingers. . .

Leonardo: Oh for sure, I remember a scene towards the ending when ah the ship goes straight up and and ah it's completely bobbing up and down in the water and and we're sort of at the top of it and looking around and seeing like ya know fifteen gigantic cranes moving around us while we're on this hydraulic poop deck and below us we see like ya know thirty stunt men on bungy cords. Kate and I looked at each other and said how did we get here?

İGood Morning America
İMia D.