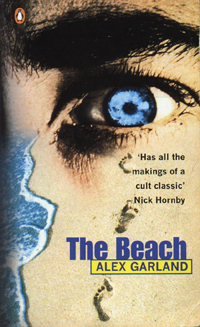 Well i don't know about you, but if someone said to me, here's a travel story i would have dropped the book and run as fast as i could. But reading it, it is fucking amazing. Try reading it, it'll keep you hooked right the way through, tears may be shed, you'll laugh at some bits and some bits you might find confusing but none the less well done Alex Garland- Fantastic debut!
The Khao San road, Bangkok- first stop on the backpacker trail. On Richard's first night there a fellow traveller slits his wrists, leaving Richard a map to "The Beach."
The Beach is a legend among young travellers in Asia: white sands circling a lagoon hidden from the sea, coral gardens and freshwater falls surrounded by a jungle. In this earthly paradise, it is rumoured, a select community lives in blissful innocence. For Richard, hanuted by the glamour of Veitnam war movies, a trek into unknown Thai territory is irresistable. He was looking for adventure. Now he's found it.